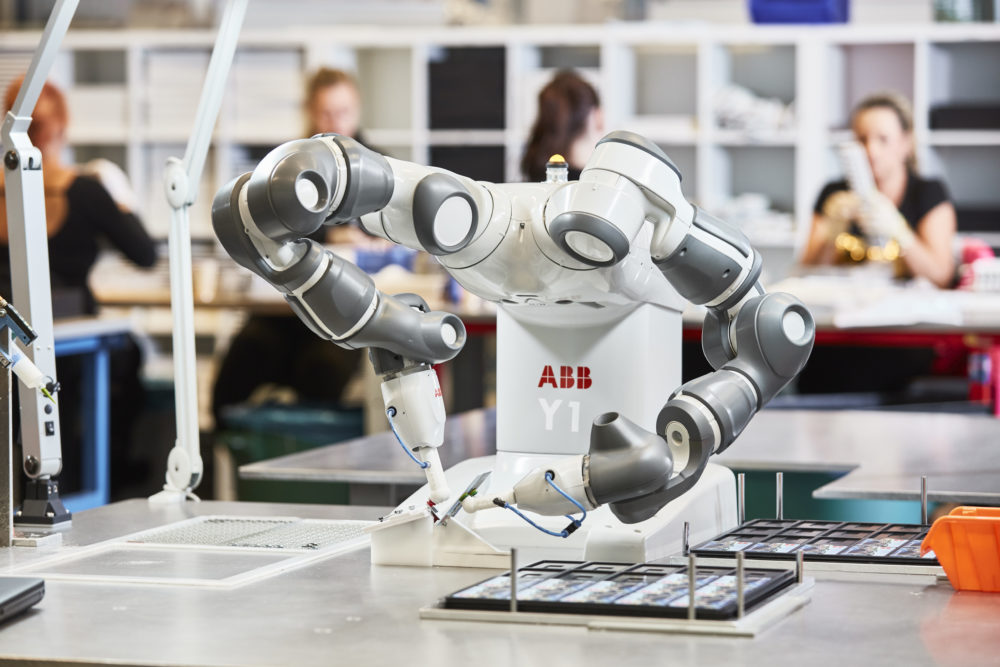 Collaborative robots can help small and mid-size enterprises stay competitive, providing the benefits of industrial automation but with greater ease of use, affordability, and flexibility. Dutch manufacturer DEONET is an example of how robots that work alongside people can boost quality and productivity.
DEONET was founded 25 years ago and is based in the technology hub of Eindhoven in the southern Netherlands. Its motto is "Design. Produce. Deliver." The company makes promotional products such as customized key rings, pens, and USB sticks.
These items are sold to marketing and advertising agencies, as well as IT resellers. DEONET exports to more than 60 countries around the world. It has sales offices in France, Germany, Italy, Poland, Spain, and Turkey.
Challenge
Like many small manufacturers, DEONET faces pressure from low-cost competitors overseas. It often produces small lots of highly variable items that require precision.
For example, glue dots must be placed precisely on a wide variety of credit card and memory stick shapes. If done incorrectly, the glue can form strings that might ruin a product or jeopardize DEONET's quality standards.
Solution
DEONET turned to the ABB YuMi collaborative robot. The dual-armed ABB YuMi was designed to work alongside people without requiring safety cages or barriers. YuMi is a complete assembly solution that includes part-feeding systems, as well as a wide variety of grippers and integrated 2D or 3D vision options. Because of its ease of use, the ABB YuMi doesn't require DEONET to rely on external programming experts.
"YuMi is our first robot," said Mike Verjans, chief technology officer at DEONET. "It was important for us as a small company that we could program the robot ourselves without relying on outside integration experts. This also has to be done quickly, as our production is constantly changing. YuMi's reusable programming is important to our productivity."
For example, tasks that stay the same, such as picking up a tray or placing a chip, just need to be appended to accommodate new sizes or shapes of USB sticks.
YuMi's two arms allow it to multitask. At DEONET, for example, the robot places memory cards into position with one gripper and then into the gluing unit with the other.
And while the ABB YuMi can quickly pick out credit cards that have been placed into trays, for products that are more unique, the staff and robot could use integrated vision to find randomly placed cards on a table.
Results
"Having the YuMi on our plant floor took some getting used to for our workers, but once they saw that the robot was safe and helped boost our productivity, they really welcomed the new member of our team," noted Joanie Slegers, assembly department manager at DEONET. "It is also clear that the robot is not there to replace jobs. In fact, the more we need robots, the more we need people to plan and manage the robots and carry out quality checks."
"'Collaborative' is the key word for DEONET in the near future," said Rob van Berkom, CEO of DEONET. "Now our production is not only more economical, but we can [also] produce a lot more items that we couldn't produce before, because they were too expensive to make in Europe.
"We already make 3,000 parts a day with one installation on one shift, so imagine what we can do in two or three shifts," he added. "I think this is going to create growth in ways that will require more people and more robots."