Manufacturers around the world are turning to automation to help solve labor shortages, increase productivity, and improve product quality. Collaborative robots provide a cost-effective, flexible, and safe automation solution for a wide range of production tasks. This site will provide you with key information about collaborative robots and the automation industry. It is hosted by WTWH Media and sponsored by Universal Robots, the market leader in collaborative robots (cobots).
Throughout this site you have the option to view content-rich white papers, case study videos, events, literature, and educational webinars to further your collaborative robot knowledge.
Automate Now, Pay with Productivity
It is easier than ever to get started with cobots. We are pleased to share that UR is offering low-risk 0% financing options to help you reap the benefits of automation with no cash outlay!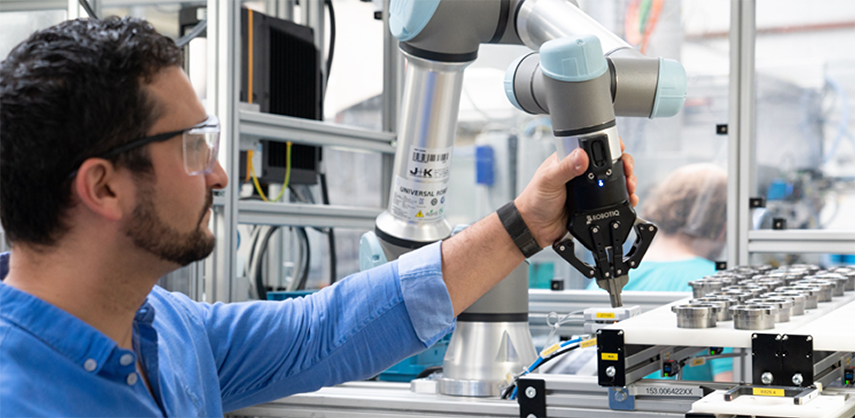 Building the Case for Robotic Automation
Robotic Manufacturing Solves Business Challenges
Improving Production Quality with Cobots
Collaborative Robots offer new kinds of cost savings and capacity gains that old-school robots don't -- that means there's a new method to justify cobot automation investments. This white paper will cover the ins and outs of this new school of cobot justification.
This new white paper to demonstrates why four world leaders in quality systems have chosen Universal Robots to be their standard robot product offering.
Many small manufacturing businesses don't look to factory automation when making plans to grow production. Fortunately, new classes of robots have emerged that are designed for smes to get ahead without getting complicated. This ebook introduces the top production challenges manufacturers are solving with collaborative robots.
Line of CNC-integrated Cobots Supports High-Wage Jobs and High-Mix Production
In less than five years, Go Fast Campers (GFC) in Bozeman, Montana has grown from initial concept to an innovative manufacturing operation with 65 employees – and a starting minimum wage of $52,500 a year plus benefits. Cobot automation has been GFC's strategy for success since day one. A line of fully integrated UR5 machine-tending cobots uses a single robot program to produce any part, in any machine cell. This allows the company to manufacture high-quality components just-in-time, offering significant competitive advantage, while also being able to quickly incorporate customer feedback.
Metrology System Manufacturer Grows Revenue 230% with Cobot-Based Product Line
Automated metrology machines—which measure whether components are manufactured correctly—often require a high level of customization and integration. But that can lead to long development times and demanding support requirements, making it difficult for metrology systems companies to scale their business. 3D Infotech standardized its automated product line on UR cobots, and was able to quickly bring that line to market along with related UR+ products. Despite the drop in manufacturing capex purchases due to COVID-19, 3D Infotech saw "phenomenal" revenue growth of 230% through 2021. Rohit Khanna, president and CEO, credits his company's metrology expertise and software along with the UR cobots' ease of programming, safety and reliability, and worldwide technical support for the new products' success. Khanna adds, "If we provide any component in our solution that is not performing up to the expectation of our customer, that makes us look bad. In the case of cobots from UR, they've actually helped us elevate our brand status."
Sanding Cobot Delivers 40% Increase in Throughput at Andrew Pearce Bowls
Vermont manufacturer of wooden tableware has successfully deployed a UR5e collaborative robot to handle the finish sanding of cutting boards. The new robot colleague, named 'Sandrew' by the staff, has delivered a 40% increase in the production throughput, which resulted in the robot paying itself back in just two months.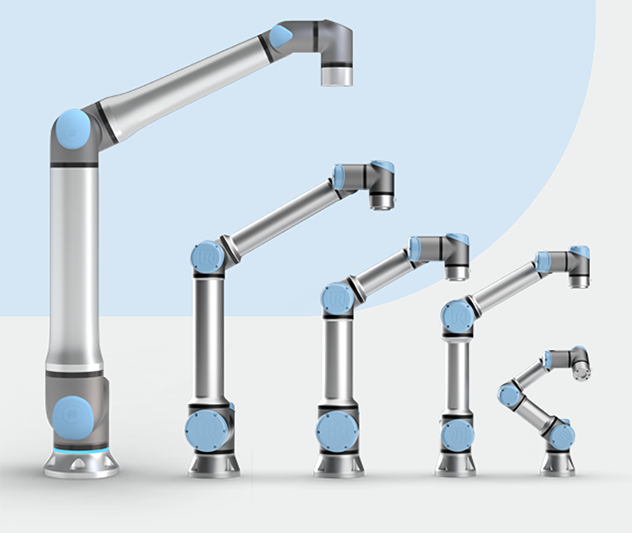 Universal Robots Catalogue
Collaborative Robot Arm Technical Specifications Sheet
Automation for anyone. Anywhere.
Our cobots are cost-effective, flexible, safe, and easy-to-use collaborative robots that work closely with humans in manufacturing environments. Learn more about all our cobot offerings and how they can increase the productivity at your business.
The ongoing labor shortage makes your productivity plans difficult to achieve. Cost-effective & flexible, collaborative robots can ease the labor shortage's impact on manufacturing. Take an alternative approach to driving productivity with your current production layout, and with your existing workers, by deploying cobot systems.
Collaborative robots (cobots) are lightweight robotic arms that handle a wide range of applications to automate repetitive tasks, usually conducted by workers. Learn more about the technical specs of each robot.
Next Level Productivity: The right UR+ Application Kit for You
Next Level Productivity with Cobot Automation
Collaborative robots have become the fastest-growing segment of the automation industry, thanks in part to manufacturers' ability to install cobot systems fast, and reach full production quickly. Universal Robots helps customers reduce engineering time and complexity in their projects with UR+: an ecosystem of partners who provide kits, tools, and software all pre-integrated for UR cobots. Application kits from UR+ are helping manufacturers simplify cobot automation for processes such as welding, surface finishing, quality inspection, assembly, packaging & palletizing, and machine tending.
Metal fabrication businesses are increasingly adopting automation to alleviate the skilled welder shortage. Small businesses in particular need flexible tools to sustain throughput in low-volume, high-mix production environments. Luckily, collaborative robots – easy to program, fast to deploy – are not only bridging the gap in the labor shortage but are boosting productivity, and typically reach ROI within a year.
The next generation of collaborative robots features increased payloads and higher speeds, increasing the range of applications across all industries. Join Joe Campbell, Head of Strategic Marketing, North America, for Universal Robots, as he shares more about this new generation of cobots, what hardware and software features have been upgraded, and how UR is powering robust automation solutions throughout the industry.
Speak with a Collaborative Automation Expert

Copyright © WTWH Media, LLC. All Rights Reserved. The material on this site may not be reproduced, distributed, transmitted, cached or otherwise used, except with the prior written permission of WTWH Media.
Privacy Policy