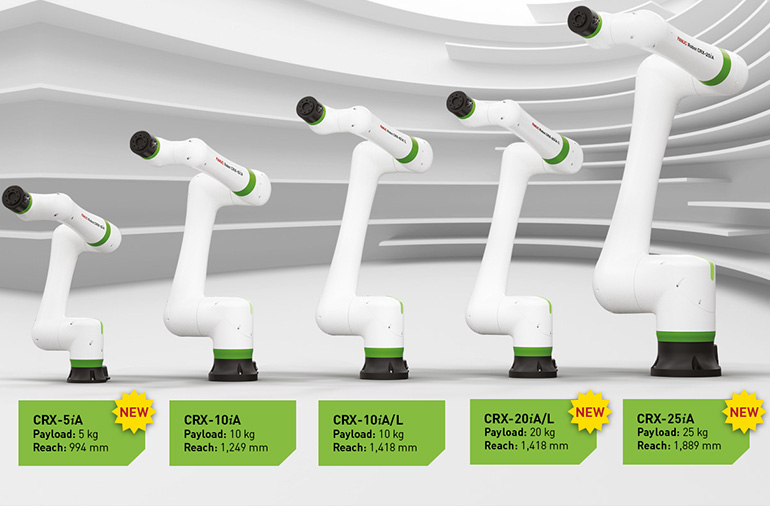 FANUC introduced the CRX-5iA, CRX-20iA/L and CRX-25iA collaborative robots, the latest additions to its CRX series that already included the CRX-10iA and CRX-10iA/L collaborative robots.
"Our CRX cobots are designed for every type of manufacturer – small or large – looking to expand their capabilities and overcome labor issues," Eric Potter, general manager of FANUC America's General Industries and Automotive engineering groups, said. "With the addition of these new models, we offer the most extensive lineup of easy-to-use cobots available on the market today."
The latest CRX cobots are meant to complement FANUC's existing line of CR and CRX cobots that now total 11 cobot model variations to handle products from 4 to 35 kg. The rollout of the CRX-5iA, CRX-20iA/L and CRX-25iA cobots, which provide a 5 kg, 20 kg and 25 kg payload respectively, follows the CRX-10iA and CRX-10iA/L cobot models. These both feature a 10 kg payload and a reach of 1249 mm and 1418 mm respectively.
FANUC's line of CRX cobots are designed for a variety of applications, including inspection, machine load/unload, packing, palletizing, sanding, welding and more. The CRX cobots can detect external forces in the workspace, stopping safely when making contact with a person or object. This technology allows the CRX to work safely alongside people without the need for expensive guarding.
FANUC said interactive programming enables users to teach points using hand guidance or a tablet interface with drag and drop icons. The series supports several of FANUC's advanced features including iRVision.
All CRX cobot models are able to connect to third-party devices. The CRX website includes an expansive list of FANUC-approved CRX device suppliers for Cobot EOAT devices, grippers, accessories and plugins.
The CRX cobots continue to take on more applications, including inspection, palletizing, machine tending, vision-guided pick and place, sanding and welding. Watch the application videos and learn how the CRX is used in industry.
FANUC will begin shipping production units of the new CRX-20iA/L in April 2022. The CRX-25iA and CRX-5iA will be available in June 2022.